Champions Of Hope : Healing the scars of COVID-19 across India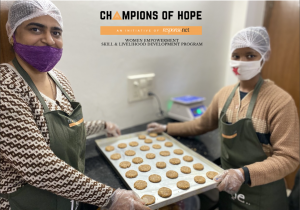 From surviving to thriving is the need during and post-COVID. Join us to champion the path to creating champions.
In just one year since the pandemic, the poverty rate in India has risen to 9.7% in 2020 from the January 2020 forecast of 4.3%. At the same time, low-income tier, people with an income of $2 or less a day, rose by 75 million, which also accounts for 60% of the global increase in poverty.
The Indian middle class shrunk by a record 32 million due to Covid-19 pandemic downturns, according to an analysis by the US-based Pew Research Center. The 32 million in India account for around 60 percent of the global retreat in the middle-income tier (people with incomes of $10.01-$20 a day).
Equal gender pay has been set back by the pandemic. At the current pace, it'll take 135 years for men and women to get the same paycheck for similar work, according to a report by the WEF. Lockdowns have hit female-dominated sectors hardest and left women doing more housework, sapping productivity. The WEF said gender parity should be embedded into economic recovery plans.
An example of our work to address the COVID-19 Scars is creating economic independence for women through the skill-building and micro-entrepreneurship model. Unique and innovative location-specific training is provided in both urban and rural setups. This training ensures employability where possible and micro-entrepreneurship for demand-centric products and services. An example being baking classes for self-owned cloud kitchens. Over 80 women have been upskilled in 2020 and this is being replicated across states to impact many more women in need for better opportunities they can create for themselves.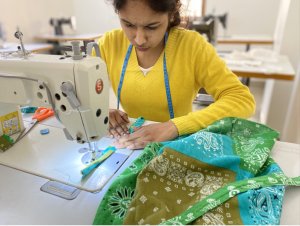 The Champions of Hope – Women Empowerment Project by Responsenet is aimed at the promotion of women empowerment through gender mainstreaming mainly through economic empowerment. This will be done through the promotion of women's participation in capacity building and skills training.
Skill-based training is provided to women in the urban and rural setup. We endeavor to improve the employability of women by optimally utilizing the local resources, traditional talent, and skills of women, and infrastructure available in the selected geographies with support from the government, private institutions, and the industry. The organization's vision is to 'Create access to social and economic opportunities towards empowering Women'.
With the growing demand for skill enhancement in every field of work all over the world, India is never a step backward to impart training to every sector of society. Keeping this trend in view, Responsenet has spread its hand to work for the betterment & upliftment of women in the best possible way.
Unemployment and underemployment of the migrants from Bihar, West Bengal, Tamil Nadu & Andhra Pradesh is highly prevalent specially among women in J.J Bandhu Camp, Delhi. There is no economically viable source of income for the family as the bread earner of the families work as daily wage labours, rickshaw pullers, street vendors etc. During the need assessment, it was identified that there is a huge need for an empowerment program for the women as there is a lack of skills and training opportunities among these women that could give them a dignified job.
This is why Champions of Hope – Skill Development Program was created to build the capacity and competency of a young woman like 'MUSKAAN' who dreams to become a designer and an artist but never had an opportunity due to poverty and lack of platform where their talents could be nurtured and they could live their dreams.
Help us, as we work to support thousands to stand back on their feet and heal from the scars of COVID-19.