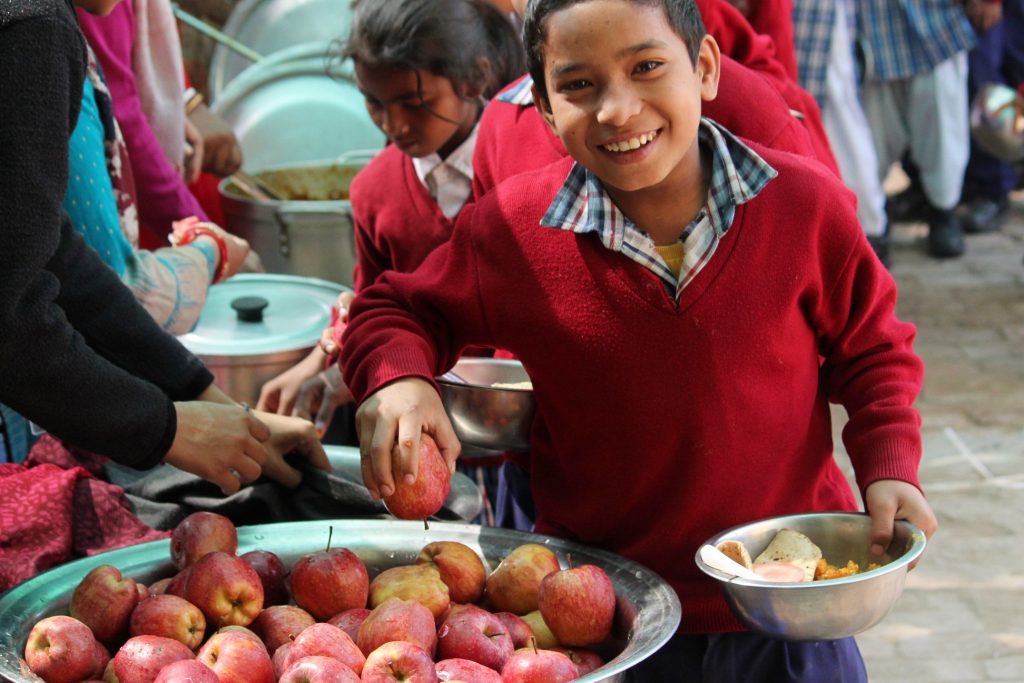 Food & Nutrition
SOCIAL IMPACT WITH NUTRITION AND ERADICATING HUNGER CSR
Learn more by contacting us: at [email protected] or call us at 9910737524 / 9810007524
Impact Statement
Delhi FoodBank focusses on children up to school going ages attending nonformal schools across India with the objective to better their health, education, and safety.Delhi FoodBank works with implementation partners to replicate the model and help significantly evolve into a network of organically operated feeding centers catering to the health, education, and safety of children to help them realize their potential for a better future with the foundation of creating access to food.
Contact us to learn how we can spread, share and serve together.
Our Mission
Our mission is to work on the fundamental need of food for children to help build a better future by ensuring children stay in schools, learn, play, stay healthy and safe.
VISION
Every individual in India having access to food. Feeding Hope, Fighting Hunger across India.
With the fact that food is a daily need every day for each one of us, we address this basic need of serving meals every day
.
Our Food for Education initiative reaches out to over 15,000 children in the age group of 6-14 years across 11 cities across India daily
. This helps ensure parents send children to school. This way the children are secure and saved from vulnerabilities.
Where do we serve?
These meals are being supported in Shelter Homes, Non-Formal Education Centres, and Crèches in Slums across India.
Many times, we are serving the very first meal of the day that a child eats. Following is the menu list of items served for Breakfast and Lunch daily:
1
Breakfast Program (All meals prepared on site)
• Wheat Porridge, Egg & bread
2
Lunch Program (All meals prepared on site)
• Add on includes Salad, Paneer, Halwa, Jeera Aloo etc
Impact Indicators
Number of meals fed every day.
Increase in enrollments and attendance. This helps build better futures and also helps children stay safe in schools.
Improvement in health which also means lessor visits to the doctor and more energy to play.
Enhancement of Neurological Development.
Number of children mainstreamed on an annual basis
Families and feeding sites save money as food is being provided free of cost. This helps them to invest this saved money for indirect benefits of the children..
Increase in Happiness Quotient of Child most crucial
At responsenet, we believe that collective abilities can make a lasting difference to the lives of millions with the right partnerships for community-centric interventions. A focus we have in all the work we do is the mission to work closely with those in need and our partners to create a lasting impact on the lives we can touch every day. We work across India in our projects and help create, promote and supplement partnerships to better lives every day.
Started in 2007 out of the needs for accelerating innovative solutions, we are working to address the most pressing challenges affecting communities every day with innovation, technology, and partnerships.
We partner with government, companies, individuals and NGO partners providing end to end implementation of projects. We work closely with partners to achieve this goal and serve communities within India through various CSR program implementations.
Our strong teams have diverse skill-sets with experience across the development and private sector with a passion to design, implement and work for community-centric implementations with creativity to implement solutions for diverse geographies and stakeholders across India for a better tomorrow for those we work for.
One core challenge we have taken up in mission mode at Responsenet is the need to fight hunger especially of vulnerable children for whom we connect fresh meals. We serve those who need these meals the most every day to help realize their potential and focus on child protection. This has the highest potential to create an impact on the lives of children and help them stay healthy, learn and stay in schools to realize their potential. With the fundamental thought that a "Hungry Child Can Not Learn", We help ensure they are not out of schools and
learning safely every day.
We feed meals daily across India in Jharkhand, Punjab, Tamil Nadu, Chandigarh, Kerala, Assam, Jharkhand Maharashtra, Delhi, Haryana, Uttar Pradesh among other states with the aim to transform lives with the foundation to provide access for the most basic need of food for children in need to help them chose and realize a better future.