Howzaat! Cricket Charity Match Raises Funds to Support 10,000 Meals for Children in Need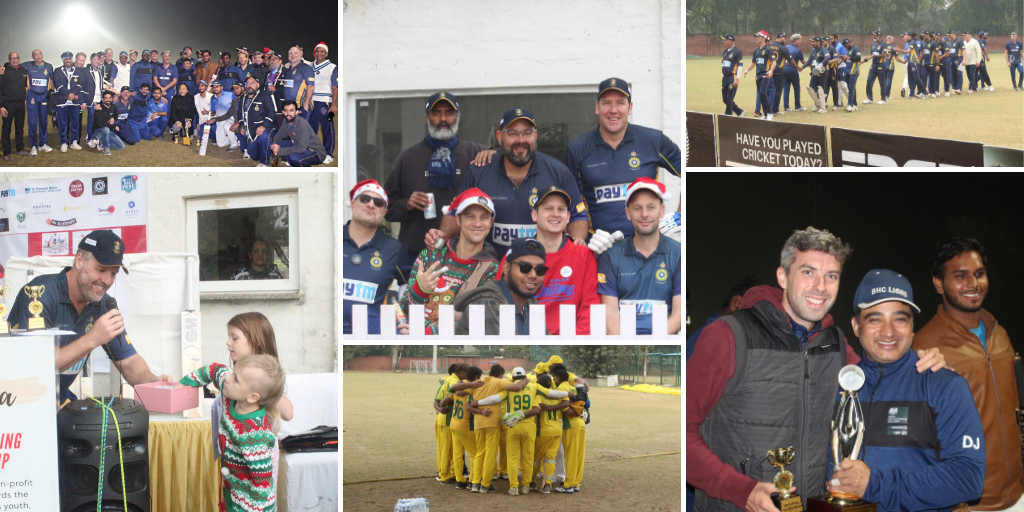 Delhi Expat Cricket Club – The ViceRoys, The Australian High Commission and The British High Commission played a Cricket Charity Match in Aid of Responsenet Food For Education Programs.
With Christmas around the corner and the country riding high on cricket fever, the excitement was at its peak for a very special fundraising event in The Ballpark last weekend.
Cricket teams from the Delhi Expat Cricket Club aka 'The Viceroys', the Australian High Commission, and the British High Commission competed in a round robin cricket tournament on Saturday 14 December to raise funds for Responsenet to help continue its efforts to feed, educate and empower children and young people of India.
Angela Nar, programs director at Responsenet, said: "Whether you're into cricket or not, this was a fantastic day out for families and friends and we're very grateful to Viceroys and the organisers. A significant amount of much needed funds were raised for Responsenet's Food for Education programs, which will help support 10,000 meals for children in need. We hope the success of this event inspires many others to come forward to support our cause."
Commenting on the match, Martin Devlin, Captain of Australian High Commission CC, said: "Cricket was great and a fantastic result for funds raised. All players and individuals involved in AHC cricket felt privileged to be involved and to support such a worthy cause. The Delhi Expat CC and Responsenet can be very proud of their efforts."
Tom Carroll, Captain of Delhi Expat Cricket Club, said: "The Delhi Expat Cricket Club was proud to host the first of what we hope will be an ongoing event with the Australian and British High Commission Cricket Clubs. Living in India and meeting the people we do through cricket, we know how privileged we are. We were thrilled with the support people showed for the event and with the amount we were able to raise for such a worthy cause."
Roger Golding, Captain of British High Commission Cricket Club, said: "The British High Commission Cricket Club was delighted to participate in the tournament with the Delhi Expat Cricket Club and the AHC. Cricket took a back seat to the wonderful work of Responsenet whose vital work provides meals to children across India each day. It was a fantastic day and we look forward to defending the title next year."
The 'start of play' began at 10 am and saw the teams compete in a total of three matches (12 overs each) plus one final match (20 overs) which saw the British High Commission team bat their way to victory.
The match received an overwhelming response from spectators which included major industry leaders, cricketers, VIP guests and many other prominent personalities.
Supporting organizations included Costa Coffee, Physio Active, Radisson Blu Plaza Delhi Airport, Novotel Aerocity, Pianoman, Smaash, Olive Bar and Kitchen, Hyatt Regency, Oh So Stoned among others.
With the jolly season in full swing, the charity event also featured a number of other attractions which helped to increase the money raised. The event included food, drinks, lucky draw hampers and raffle prizes – with all proceeds to the charity pot.

We are grateful to Her Excellency Stacey Hines, High Commissioner, Trinidad & Tobago, who presented the trophies, to all the businesses and players who donated prizes, and to everyone who helped to organise or who bought tickets.

If you want to donate to Response.Net you can do it here https://p-y.tm/aU-AT97
Project site: www.delhifoodbanking.org
Email: [email protected]
Mobile: +91 8585995995
A few glimpses of the day available at :
https://photos.app.goo.gl/gsyess5Z5ABSr5kt9