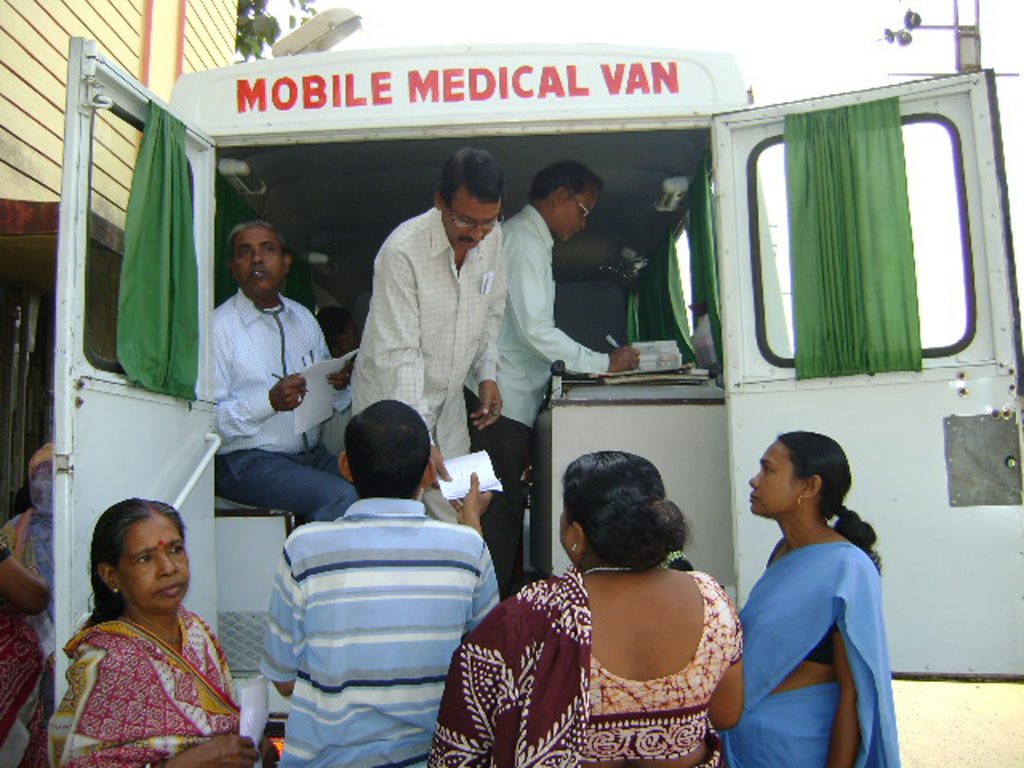 Quality Healthcare | NGO | CSR
Better to predict and prevent rather than repair and repent
We work around healthcare focusing on the prevention of diseases at early stages because prevention, rather than cure, is the key to a productive future. Therefore, raising awareness about the best practices and early diagnosis becomes crucial for a healthy lifestyle.
Healthcare has always been a prime driver for the holistic development of an individual. The availability of an equitable, accessible, and affordable healthcare system is essential for enabling good healthcare for the population of the country.
According to the Ministry of Health and Family Welfare's National Family Health Survey-5 report, there has been an improvement in several dimensions such as institutional deliveries, vaccinations, and infant mortality. For the first time, the Total Fertility Rate of India (average number of children born to a woman during her lifetime) has fallen below the replacement level of 2.1.
The healthcare system of India can be divided into 3 parts- primary, secondary and tertiary, with the first one holding special consideration as it is a preventive healthcare system that has the potential for early detection of ailments and serves the purpose of a healthy lifestyle. The prevalence of stunting, wasting and malnutrition amongst children can be greatly reduced if the best hygiene and sanitation practices in addition to proper nutrition are imparted to them.
As per the latest Human Development Report (2021-22), India ranked 132 out of 191 countries with a score of 0.633. Slipping 2 positions from the last year, the score is also below the global average. India's Multidimensional Poverty Index (MPI) (which captures the multiple deprivations that people in developing countries face in their health, education, and standard of living) indicates that it is far worse off than some comparable countries.
Severe multidimensional poverty: refers to the percentage with a deprivation score of 50% or more.
Population vulnerable to multidimensional poverty: refers to the percentage of the people at risk of suffering multiple deprivations, i.e. those with a deprivation score of 20-33%.
Percentage of the population living at less than $1.90 per day (in terms of purchasing power parity): the data reveals that even in percentage terms, India is far worse off than some comparable countries.
Life expectancy at birth: the average number of years a newborn is expected to live if mortality patterns at the time of its birth remain constant in the future. India's score in 2021 is 67.2 years.
In a bid to improve the MPI of India, we are intervening at the ground level when it comes to health and well-being. Responsenet has been actively involved in providing primary healthcare to the needy and it has followed a twofold approach for the same:
1. Bringing affordable quality healthcare services with easy access to underprivileged families and communities
2. Promote healthcare awareness and encourage them to seek help without having them risk their day's wages.
3. We are working with Primary Healthcare Centres, Sub-Healthcare Centres and ASHA workers for a comprehensive healthcare regime on a grassroots level.
It is no surprise that with adequate healthcare, productivity and development follow and, with development, a better standard of living. Therefore, this cyclical phenomenon of health, productivity, and standard of living makes a case for responsive healthcare intervention as health impinges on almost all the other aspects of life.
Our approach toward holistic healthcare
At the international level, quality is receiving increasing attention in the context of the Sustainable Development Goals (SDGs), as the SDGs include the imperative to "achieve universal health coverage, including financial risk protection, access to quality essential health-care services and access to safe, effective, quality and affordable essential medicines and vaccines for all". A holistic approach toward universal health coverage includes working on a grassroots level.
Driving transformations through partnerships: Through partnerships with trusted companies and through colleague volunteerism, we're making a difference in the communities we serve, increasing access to healthcare and addressing the disparities that hold people back from better health
Focusing on fundamentals: we try to tackle the problems of healthcare from a very basic level and move upwards from there for holistic coverage. With our team on-ground team, we collect data, going from one place to another, and conduct a Need-Base Assessment to go into the depth of the problems.
Preventive healthcare: it is no mystery that prevention is better than cure. That is why our projects pay great attention to a preventive healthcare regime so that diseases and ailments are caught at the earliest stage possible. Some examples of preventive healthcare are:
1. Feeding
2. Health Checkups at the community or school level
3. Immunisation
4. Deworming, Fortified foods Food supplementation, Iron & Folic Acid
5. Antenatal Checkups, Institutional Delivery, Growth Monitoring, Complementary 6.Feeding, Anemia, Breastfeeding
7. IEC in line with POSHAN Abhiyaan
8. Health care infrastructure and operations
Enabling Systems Change: one of the prime factors of change in today's world is to harness the power of technology, partnerships, investments, and policy to drive impact at a scale and help the world attain a healthy lifestyle.
Investing in reducing health inequalities: contributes to social cohesion and breaks the vicious spiral of poor health contributing to, and resulting from, poverty and exclusion.
Responsenet recognizes that health is the thread that connects all our life choices. Investments in health, especially after the Covid-19 pandemic has become exposed the flaws in our healthcare systems. It is crucial to garner a collective effort to prevent such kind of events from happening again.
Our effort in healthcare for the underprivileged sections of society had created an impact in the following ways:
Vaccination drives during Covid-19: as a preventive measure, Responsenet with the support of AON and under the Diversity & Inclusivity Initiative, undertook a vaccination drive to serve the Transgender community, Sex Workers & Differently Abled individuals. Often facing discrimination and stigma on all fronts of life affects their physical & mental health and accessibility to care. This initiative ensured equitable distribution of safe and effective COVID-19 vaccines, irrespective of gender & economic status. Also, we helped people overcome vaccine hesitancy which was a major issue during the vaccination process. The World Health Organisation defines vaccine hesitancy as a "delay in acceptance or refusal of vaccines despite availability of vaccination services." Vaccination is one of the most cost-effective ways of avoiding disease – it currently prevents 2-3 million deaths a year, and a further 1.5 million could be avoided if global coverage of vaccinations improved.
We partnered with companies such as Microsoft, AON, Indigo, Hilton, and Visible Alpha where we impacted more than 73,000 lives with Covid relief kits, vaccinations, and life-saving food kits.
Eye checkup camps and glasses distribution: The camp was organized and arranged right in the middle of the community with the available infrastructure. The program was organized to provide the best eye care treatments to those who can't afford them due to meager resources. With trained and professional ophthalmologists and medical staff from Netram Eye Foundation, and with the latest eye care machinery and ready-made power spectacles along with eye drops and medicine, the camp kicked off to address the needs of the beneficiaries at the earliest.
Menstrual Hygiene Workshop (AON Pro Bono Program): Under the Menstrual Hygiene Management for Adolescent Girls there was the dissemination of the correct knowledge regarding the science behind menstruation, the normal, abnormal, and alarming aspects of menstruation, ways to maintain proper hygiene during periods and regarding changes that take place in an adolescent during puberty.
Best hygiene practices: Responsenet in collaboration with JICA initiated a campaign, "Achhi Aadat", which focused on the importance of hygiene and sanitation amidst the Covid-19 pandemic. To shield people from this infectious disease, the objective was to introduce a simple yet practical approach to hygiene and sanitation-related issues by promoting handwashing, nail cleaning, and other hygiene practices such as correctly wearing masks. Responsenet impacted over 37,349 individuals directly and 149,396 indirectly through over 463 unique intervention activities across four districts, namely Coimbatore and Pollachi in Tamil Nadu and Giridih and Hazaribagh Jharkhand.
JICA 'Achhi Aadat' Campaign: Seven social media posts disseminated the core messages mentioned above. The various posts mentioned the continuous on-ground work in both states i.e. Jharkhand, and Tamil Nadu. In addition, a small campaign during Global Handwashing Day to promote the session each day, and the message of 'Hand Washing' was conducted. The seven posts were promoted on Twitter, reaching approx. 8,70,000 impressions, which is measured by Twitter analytics to highlight the number of Twitter users that have seen the message. The impressions helped amplify the objectives of the 'Achhi Aadat Campaign' i.e. to promote hygiene and sanitation-related practices, as well as on-ground work done by Responsenet.
Nation's frontline heroes-
Accredited Social Health Activists (ASHA)
The social development of a nation is dependent on the health of its population. With a focus on a bottom-up approach, the primary healthcare system is comprehensively supported by the ASHA. One of the core strategies that these frontline workers follow is to create a health system with decentralised village and district-level health planning and management. This enabled them to empower people in their communities to make healthy decisions and understand the determinants of health, such as nutrition, sanitation, and hygiene. These ground-level workers/healthcare assistants have proven to be a key to successful practices revolving around the prevention of diseases.
These health workers play a crucial role in the following areas:
Create awareness and provide information to the community on determinants of WASH, health, nutrition, existing health services, etc.
Counsel women on birth preparedness, the importance of safe delivery, breastfeeding, immunization, and contraception, etc.
Mobilize the community and facilitate them in accessing health services available at the village/sub-center/primary health centers etc.
Early childhood care
Yet another factor that provides long-term health is early childhood care. According to UNESCO, the period from birth to eight years old is one of remarkable brain development for children and represents a crucial window of opportunity for education. Early Childhood Care and Education (ECCE) positively contributes to children's long-term development and learning by facilitating an enabling and stimulating environment in these foundation stages of lifelong learning. Hence, a robust healthcare infrastructure becomes necessary for a sustainable future.
Present-day issues with healthcare infrastructure
Issues of health insurance: A report by NITI Aayog- "Health Insurance for India's Missing Middle" has highlighted the gaps in insurance penetration as at least 30% of the population (~40 crores) are devoid of any financial protection for health. Thus, high Out-of-Pocket-Expenditure (OOPE) results in bankruptcy.
the Covid-19 pandemic highlighted the shortcomings of India's health infrastructure. Because of this public health crisis, the treatment costs in private hospitals were through the roof with PPE kits, ventilators and oxygen concentrators selling almost at 200% of the price as the provision of price ceilings was absent. The reason for such high prices was the increased demand and limited supply.
Approximately 70% of the healthcare services in India are provided by private players. If private healthcare crumbles due to economic constraints or other factors, India's entire healthcare system can crumble. However, Private hospitals don't have a good presence in Tier-2 and Tier-3 cities. Lack of transparency and unethical practices in the private sector.
Shortage of trained and efficient manpower: the doctor-to-patient ratio remains low, which is merely 0.7 doctors per 1,000 people. This is compared to the WHO average of 2.5 doctors per 1,000 people. Improving this situation continues to remain a long-term process.
Shortage of Ground-level infrastructure: There is a shortage of Primary Healthcare Centres (PHCs) and Sub-Healthcare Centres (SHCs), for example, Uttar Pradesh has one PHC for every 28 villages.
According to the WHO, primary health care is a "whole-of-society approach" to health and well-being centered on the needs and preferences of individuals, families, and communities. It addresses the broader determinants of health and focuses on the comprehensive and interrelated aspects of physical, mental, and social health and well-being. A synergistic approach with various stakeholders would prove to be instrumental in the well-being of society, especially the underrepresented sections of society.
Responsenet strives to make healthcare accessible to all and, in doing so, spread awareness about the prevention of diseases so that expenditure incurred by the patients in hospitals is lessened to a great extent. Moreover, we provide timely help to the ones in need so that they get treatment at the earliest stage possible.
As an evergreen topic of interest, we are broadening our horizons to be able to create a long-term impact on society.
Investing in health infrastructure fosters a transformational change in the health system, in particular reinforcing the shift from a hospital-centered model to community-based care and integrated services.
Improving access to affordable, sustainable, and high-quality healthcare with a view to reducing health inequalities between regions, and giving disadvantaged groups and marginalized communities better access to healthcare.
Supporting the adaptation, up-skilling, and lifelong learning of the health workforce.
Fostering active, healthy aging promotes employability and employment and enable people to stay active for longer.