Health Nutrition and Eradicating Hunger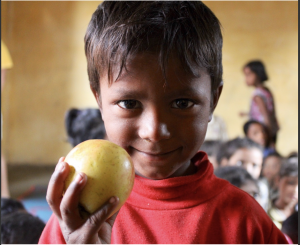 In 2011, RESPONSENE T initiated a life-saving nutritional meals support program for vulnerable children and is presently supporting over 17000 children across 15 states in India. We also started the first food bank in India, Delhi FoodBank.
These meals are a long-term commitment to the most vulnerable children as it helps meet their daily need for food that gives them fuel to learn, play and grow healthy.
A simple meal a day can help reimagine a better world for them……
Poverty and poor health worldwide are inextricably linked together and there are no two ways about the fact that with good health one can lead a productive life. According to the SDG Index of NITI Aayog, India has managed to perform well on 3 out of 5 indicators for Zero Hunger (SDG 2) namely,
the percentage of pregnant women aged 15-49 years who are anemic,

the percentage of children under 5 years who are underweight and

percent of children under 5 years who are stunted.
It still lacks the remaining 2 indicators— rice and wheat produced annually per unit area and the percentage of beneficiaries covered under the National Food Security Act, 2013.
Join us for your CSR and Philanthropy impact for Health Nutrition and Eradicating Hunger
According to the State of Food Security and Nutrition in the World Report 2021, jointly prepared by FAO, UNICEF, and WHO:
People facing hunger in 2020 were estimated between 720 and 811 million

Prevalence of undernourishment increased from 8.4 percent to around 9.9 percent.

Moderate or severe food insecurity (based on the Food Insecurity Experience Scale) at the global level rose from 22.6 percent in 2014 to 26.6 percent in 2019.
We, at Responsenet, try to bridge the gap between hunger and nourishment on one side and food security on the other. One of our flagship programs- Delhi Foodbanking, a nationwide hunger-relief initiative, working every day towards providing healthy meals to vulnerable children in non-formal schools, shelter homes, and disaster-affected areas has enabled us to feed over 17,000 children daily, across 13 states of India and has shown significant improvement in their health, nutritional levels and learning ability to succeed in life.
KFC India has joined hands with Responsenet to combat the grave problem of hunger and malnutrition in India. KFC add HOPE™, along with its partners, are feeding in over 15 Cities across India including New Delhi, Mumbai, Kolkata, Hyderabad, Chennai, Gurgaon, Ghaziabad, Noida, Lucknow, Pune, Guwahati, Chandigarh, Cochin, Visakhapatnam and Coimbatore among others.
During the pandemic, many people were pushed into poverty and it took a heavy toll on the lives of people across the globe. As a response to this Coronavirus-induced crisis of food insecurity, hunger, and malnourishment, Responsenet immediately established a task force to support the vulnerable communities during these unpredictable times and prolonged lockdown.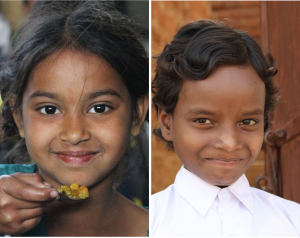 Children like Shahnaz & Zahera are able to get access to the most basic necessity of life i.e. FOOD which is helping them improve their learning capabilities and overall holistic development.
Our nutrition program is a national initiative to connect nutritional food with the hungry, in a systematic and efficient process in a realizable way to end the fight against hunger, and malnutrition and enables education for a secure future for those in need. With the support of our corporate partners like KFC, AON, SMCC, ONGC, GARTNER, & many others, we are connecting freshly cooked meals with those who need them the most every day.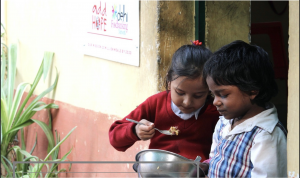 Quality meals are made available to over 17000 children from poor socio-economic backgrounds on a daily basis.
Improved learning capabilities in children due to sustained nutritional in-take
Improved physical and neurological growth improving the academic performance of thechildren
40 % of the qualifying students mainstreamed to local govt. schools.
Number of absenteeism due to health issues was reduced by 80% among the children.
Helped Children reached their full potential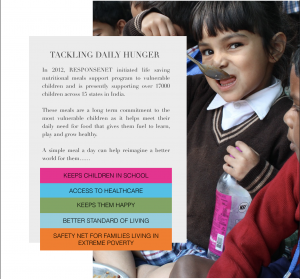 Join us and help create a difference in the lives of young children to help build a stronger foundation for the nation. Health Nutrition and Eradicating Hunger CSR implementation